Horse-Aquatrainer: Gentle rehabilitation and condition improvement for your horse
fit and powerful – in the aqua trainer, rehabilitative, therapeutic, constructive and relaxing effects can be achieved in a targeted manner. The Horse aqua trainers make this possible thanks to high-quality equipment with field-tested and user-oriented components. This product is characterized by flexible adaptation options to a wide variety of on-site installation and assembly conditions. The focus of the individual equipment of our aqua trainer is the effective and economical operation of the entire system, which also includes the water treatment and the intelligent switching and control units.
Features of our aqua trainers
integrated treadmill in fabric-reinforced design with stepless regulation
Massage system with controllable, partly direction-adjustable jets for selective underwater massage
Counter-current system/breast massage with direction-adjustable jet nozzles in the front area
Inspection for optimal observation and care of the horses
Therapy with the Horse-Aquatrainer – essential advantages
Gentle rehabilitation for muscle, back and joint problems
Strengthening of the ligaments, tendons and joints
Reduced recovery time after surgical interventions
Benefit from our experience and let our trained staff advise you on the realization of your riding facility.
We rely on high-quality materials, and our products are manufactured based on the FN guidelines for horse husbandry.
Every stable is different and every horse owner has individual ideas - our products are manufactured individually according to customer requirements and customer dimensions.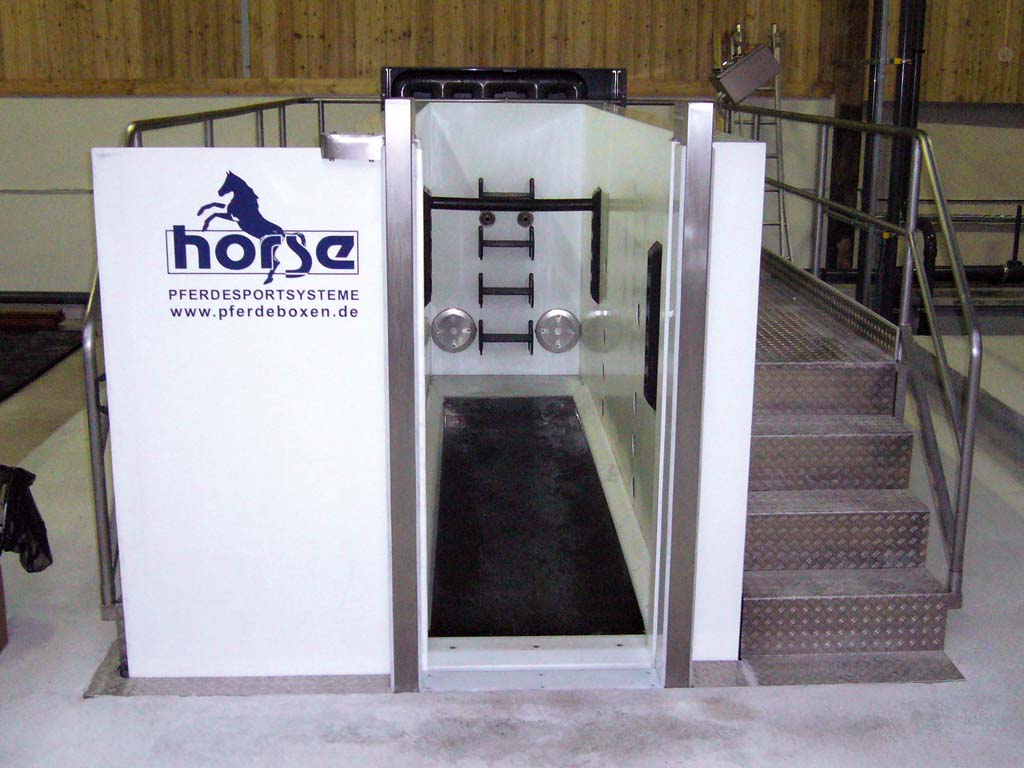 As a "global player" we are at home all over the world. Because our know-how and our services are in demand internationally, we are wherever our customers need us. Even if horses speak the same language all over the world - every customer has individual wishes and ideas and we look forward to realizing these wishes for you.
Through our nationwide sales network, we guarantee our customers fast and professional advice in all product areas. Qualified sales staff and trading partners work to offer our customers maximum quality and professional services – worldwide and from a single source.
We guarantee optimal service for all aspects of our products through competent support in the planning phase. Our teams in the office and in the field ensure customer-specific quotations and precise implementation.