Species-appropriate and individual horse keeping with the horse boxes from Horse-Pferdsportsysteme
In good hands –  In the field of horse boxes, we offer our customers numerous model variants – custom-made products are possible without any problems. Our designers work together with our ustomers to develop room concepts for optimal use.
The offered variable stall system enables optimal keeping of the horses. Numerous additional components, such as feeding openings in the front walls, round off our range of services in the area of ​​inner boxes.
Front walls with sliding or rotating doors – can be combined with various feeding systems, such as a feeding hatch with or without a flap, rotating trough and much more.
freestall with feeding options
different types of wood or plastic filling
half-height Texas front walls
exclusive equipment with arch shape, cross planks in the wood, integrated cleaning cupboards, integrated hay rack, decorative elements, weaving frames and other accessories on request
Fixed, swiveling and towable variants
Lattice bars, manufactured according to FN guidelines: with a diameter of 26.9 mm, space between bars: 48 mm
All steel parts are hot-dip galvanized according to DIN EN ISO 1461, optionally also powder-coated - the hot-dip galvanizing of all steel parts protects against corrosion/rust and thus ensures the longevity of our products.
Impressions:  indoor horse boxes 
Benefit from our experience and let our trained staff advise you on the realization of your riding facility.
We rely on high-quality materials, and our products are manufactured based on the FN guidelines for horse husbandry.
Every stable is different and every horse owner has individual ideas - our products are manufactured individually according to customer requirements and customer dimensions.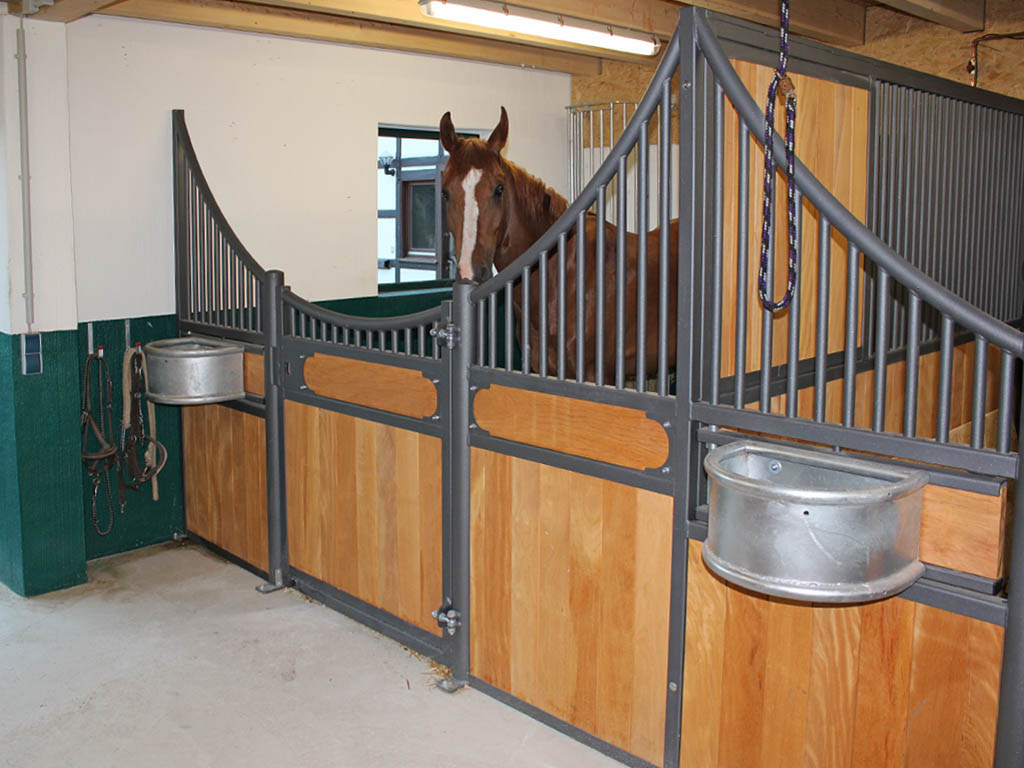 As a "global player" we are at home all over the world. Because our know-how and our services are in demand internationally, we are wherever our customers need us. Even if horses speak the same language all over the world - every customer has individual wishes and ideas and we look forward to realizing these wishes for you.
Through our nationwide sales network, we guarantee our customers fast and professional advice in all product areas. Qualified sales staff and trading partners work to offer our customers maximum quality and professional services – worldwide and from a single source.
We guarantee optimal service for all aspects of our products through competent support in the planning phase. Our teams in the office and in the field ensure customer-specific quotations and precise implementation.
Frequently asked questions about horse boxes 
Which wood is best suited for my horse box?
All types of wood are robust and durable material, which is ideal for the construction of horse boxes,
outdoor boxes, outdoor stables / horse stables
,
open stables
, pasture huts,
stable doors
or
stable gates
. You are spoiled for choice – you can choose between different types of wood:
Bilinga
Bongossi
Denya
Douglasie
You can also get your horse box with a plastic filling in different colors on request. You can take a look at all types of wood in our wood types section.
How big does the horse box have to be? How high does the horse box have to be?
Especially when building the first horse box, many horse owners face some uncertainties. Some of the most important questions are: How big should my horse box be at least? How high should my horse box be? Which important things (such as bar spacing) have to be considered?
All calculations are based on the height at the withers (WH) of your horse. If this is known, the box size can be calculated as follows:
Box size for a single horse: (WH x 2)²
Box size for a mare with foal: (WH x 2.3)²
Length of the box narrow side: WH x 1.75
(Source: Guidelines for assessing horse husbandry from an animal welfare point of view.)
Have a horse box built: How much does a horse box cost?
Even if this information is of great interest to many customers before building a horse box, the question cannot be answered easily. Many factors play a decisive role in the construction of your horse box. Here is a selection of factors to consider:
How big does the horse box have to be?
Is it a single horse or a mare with a foal?
Which type of wood or plastic filling did you choose?
Should there be a feeding opening, a rotating trough, a feed hatch with or without a flap?
Which front wall did you choose?
Should it be a rotation
or sliding door act?
Would you like to have the steel parts of the horse box additionally powder-coated?
Should other components – such as integrated cleaning cupboards, hay racks or weaving frames – be integrated?
Do you use the Horse-Pferdesportsysteme assembly service?
We would be happy to discuss these questions with you on site. Our sales representative will be happy to arrange a personal meeting with you.
What feeding options are there for my horse boxes?
There are various feeding options to choose from when building your horse box, for example:
rotary trough
feed hatch
feeding opening
Galvanized feeding trough
Feeding trough made of stainless steel
Plastic feeding trough
Don't have the right equipment? Talk to us, we will certainly find the right solution for you!