Open stables for your horses: With the open stables from Horse-Pferdsportsysteme
A little closer to nature – fresh air, exercise and social contacts characterize the open stable. In our open stables, the needs and demands of your horses can be specifically addressed. The ideal division of the available space is always one of the most important prerequisites. We offer open stables in a wide variety of designs, we would be happy to create your individual open stable for you.
Impressions: open stables, open stable keeping
Benefit from our experience and let our trained staff advise you on the realization of your riding facility.
We rely on high-quality materials, and our products are manufactured based on the FN guidelines for horse husbandry.
Every stable is different and every horse owner has individual ideas - our products are manufactured individually according to customer requirements and customer dimensions.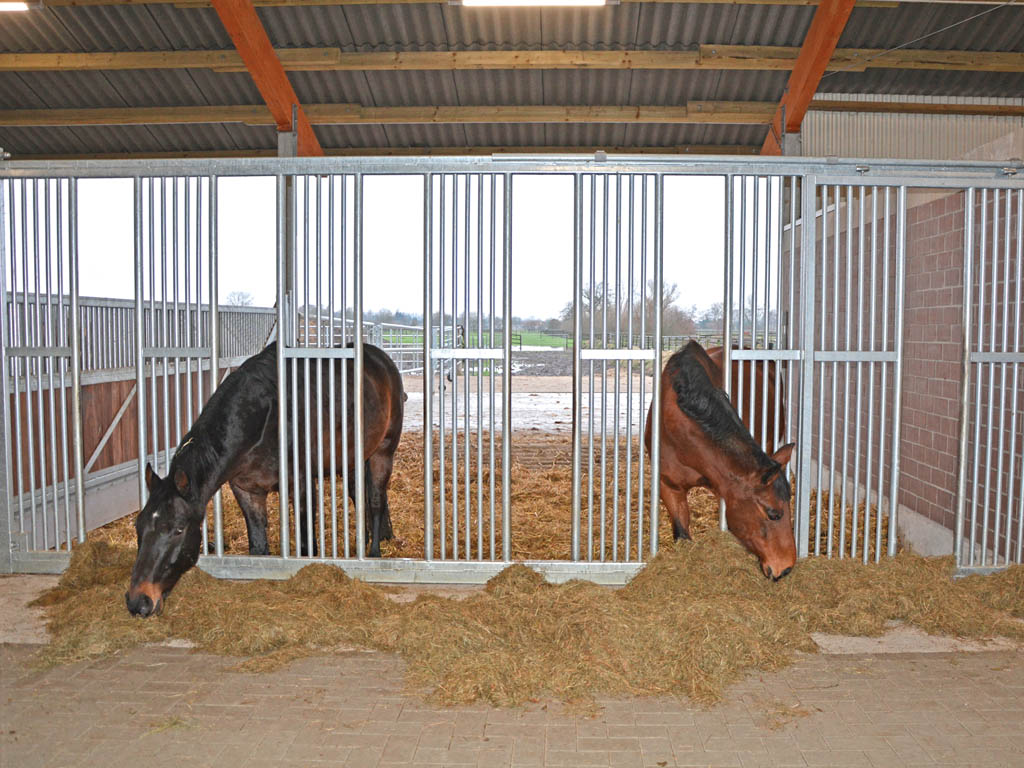 As a "global player" we are at home all over the world. Because our know-how and our services are in demand internationally, we are wherever our customers need us. Even if horses speak the same language all over the world - every customer has individual wishes and ideas and we look forward to realizing these wishes for you.
Through our nationwide sales network, we guarantee our customers fast and professional advice in all product areas. Qualified sales staff and trading partners work to offer our customers maximum quality and professional services – worldwide and from a single source.
We guarantee optimal service for all aspects of our products through competent support in the planning phase. Our teams in the office and in the field ensure customer-specific quotations and precise implementation.
Frequently asked questions about open stables
What is an open stable for horses? Offenstall, what is that? What does an open stable look like?
The open stable is characterized by a covered and open area for keeping horses. Depending on the weather conditions, the horses can decide in which area they want to stay. See also Why an open stable? / Advantages of an open stable
Why an open stable? What are the advantages of an open stable?
The open barn provides plenty of fresh air, application and social contacts. It stands for a particularly natural horse attitude and offers your horses a lot of variety, but also the opportunity to withdraw. Your horse decides when it wants to be in the stable or open area, which particularly contributes to the relaxation of the animals. If the open stable is connected to a pasture and some of their own kind, the horses can live out their natural herd behavior next to it. Conclusion: With an open stable you have the opportunity to keep your horse naturally and to respond very individually to the needs of your horses.
How much does it cost to build an open stable? How much does an open stable cost?
The cost of an open stable depends on various factors. We would be happy to send you a non-binding offer for the construction of an open stable. Please contact us for a detailed discussion.
Which wood is suitable for my open barn?
For your open barn we recommend the wood types Denya hardwood (thickness 38 mm or 60 mm) or Douglas fir wood (thickness 38 mm). You can find more information in our wood types section.