Horse walkers and lunging halls in different variants and designs
We've got the hang of it – the horse walkers we manufacture are available in different variants and designs. We offer horse walkers with ring canopies as well as closed canopy systems. The controls of the systems supplied by us are equipped with automatic left/right rotation as standard. In addition, the speed can be infinitely adjusted. Alternatively, we can supply a computer control. Various training programs can be created and called up here.
Training facility for 4-8 horses
Diameter of the plant from 15-25 m
Separation grille optionally made of electrically conductive plastic rods or perforated panels
Roof covering made of trapezoidal sheet metal, optionally also corrugated fiber cement panels
numerous exterior wall options, e.g. B. wood filling, plastic straps, wind nets, and much more.
horse walkers for free indoor/lunge circles
Interior height under the horse walker 3.50 m
2-wing gate to the inner circle approx. 3.00 m
Steel construction, hot-dip galvanized according to DIN EN ISO 1461
Impressions of horse walkers and lunging halls
Benefit from our experience and let our trained staff advise you on the realization of your riding facility.
We rely on high-quality materials, and our products are manufactured based on the FN guidelines for horse husbandry.
Every stable is different and every horse owner has individual ideas - our products are manufactured individually according to customer requirements and customer dimensions.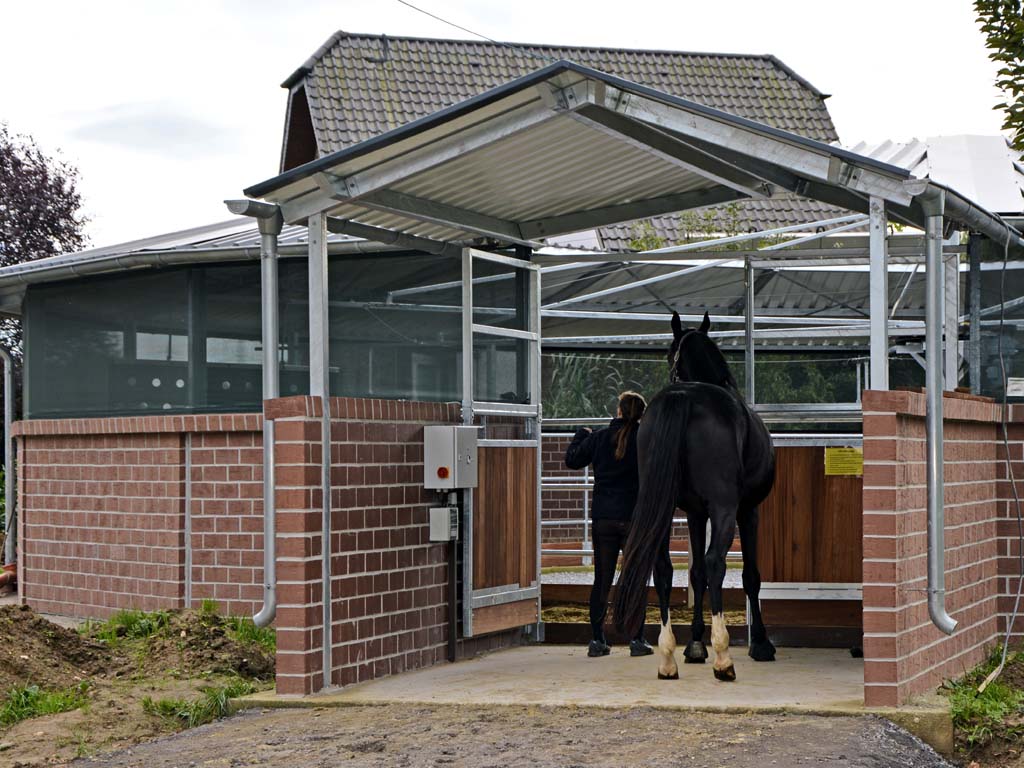 As a "global player" we are at home all over the world. Because our know-how and our services are in demand internationally, we are wherever our customers need us. Even if horses speak the same language all over the world - every customer has individual wishes and ideas and we look forward to realizing these wishes for you.
Through our nationwide sales network, we guarantee our customers fast and professional advice in all product areas. Qualified sales staff and trading partners work to offer our customers maximum quality and professional services – worldwide and from a single source.
We guarantee optimal service for all aspects of our products through competent support in the planning phase. Our teams in the office and in the field ensure customer-specific quotations and precise implementation.
Frequently asked questions about horse walkers and lunging halls
What is a horse walker? How does a horse walker work?
A horse walker can be described as a training tool that gives your horse additional application. In the horse walker, which is controlled by a drive unit, your horses are guided in a circular track. As a rule, the horse walkers offer training opportunities for 4-10 horses and have a diameter of 15-25 m (see also How big is a horse walker?). The exact type of attachment of the drive unit of your horse walker depends on which roof is installed. In addition to an open floor horse walker without a roof, the horse walker is available with an outer ring canopy. In both cases, the drive unit is mounted in the middle of your horse walker. If, on the other hand, you choose the closed roof system, the motor can be attached to the roof ridge (ceiling horse walker). This variant is ideal if you want to use the interior as a lunging ring, for example.
Which roof for my horse walker?
The horse walkers from Horse Pferdesportsysteme are offered in three standard versions:
ground walker
Horse walker with running ring canopy
Horse walker with closed canopy system (ceiling horse walker)
The impressions of the horse walkers and lunging halls give you an insight into the various implementations. We would be happy to visit you on site to discuss the situation.
How big is a horse walker? What is the diameter of a horse walker?
Usually the horse walker can be used for 4-10 horses. The diameter of the horse walker is between 15.00 and 25.00 m. However, the realization of horse walkers for more horses or with a larger diameter is possible on request, talk to us!
Can I buy a lunging hall with a horse walker?
Yes, with the First horse walker it is possible to buy a combination horse walker and lunging hall. A closed roof system is installed in a First horse walker. The drive unit is installed in the ridge, so you have enough space in the middle for a lunging circle.
How much does a horse walker cost? How much does a lunging hall cost? How much does a lunging hall with a horse walker cost?
Unfortunately, the question of the costs for a horse walker or a lunging hall cannot be answered without further ado. Questions that play an important role in determining costs include:
What area is available for the construction of your horse walker or lunging hall?
Would you like to set up a horse walker or a lunging hall or a horse walker with a lunging hall?
Would you like to have your steel construction additionally powder-coated?
Which gate should be installed for the entrance, for example a swing door or sliding door?
In general, there are few limits to the construction of a horse walker and/or lunging hall, we are happy to cater to your individual wishes. We therefore recommend a consultation in advance in any case. You can find your contact person at Horse-Pferdesportsysteme here.
What are the standard dimensions of a lunging hall?
The question can be answered quite quickly: there are none. Like the indoor horse boxes and the outdoor stables / horse stables, the lunging halls are also manufactured individually according to customer requirements.